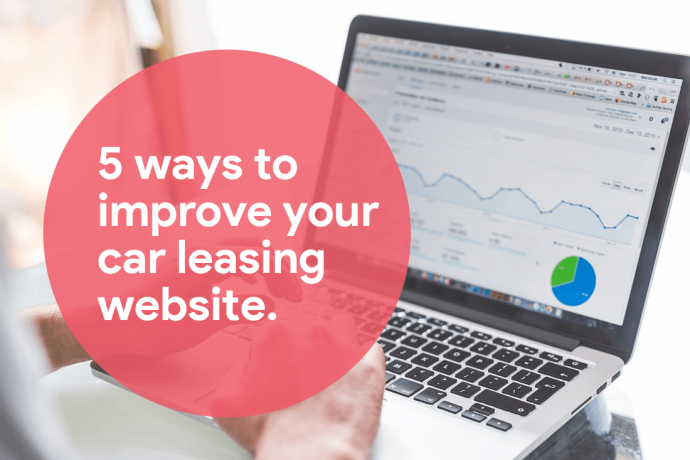 How To Improve Your Car Leasing Website
Running a car leasing company can be notoriously difficult, especially with the ever growing competition out there, but thankfully we've put together a list of 5 improvements you can implement to help enhance your car leasing website and give yourself an edge over your competitors.
1. Clear Calls-To-Action and Contact Info
This one may seem like a no-brainer but you'd be surprised how many automotive websites we come across which don't have clear CTAs or contact info. Your call to action buttons are often considered the most important aspect of your website and if used correctly, they can increase user interaction, improve conversion rates and help your website achieve its long-term business goals. An effective call to action needs to be strong and strategically placed so that it's noticeable and easily accessible when users need it.
It's also important to make sure your contact info is clear and concise throughout your whole website, and don't over-focus on calls either. Different users have different preferences, and some simply hate making phone calls. Beside email, live-chat is a great alternative for users who don't like picking up the phone.
Pro Tip: Having too many CTAs on one page can have the reverse effect of what you're trying to achieve. To avoid this, you need to analyse the page you're working on and decide what its main purpose and goal is. For example, if we take the vehicle details page the main goals might be to generate enquires or get users to place an order. A good rule of thumb is to limit your CTAs to only 2-3 per page.
2. Cut Back On The Industry Jargon
Just like many industries, the automotive sector has a lot of terminology and phrases which everyday car buyers simply don't understand. For instance, does the average user know what GAP insurance is or what's included in a maintenance package (particularly if it's their first time leasing a car)? It's important to communicate with your users in a language they know, and if they still don't understand, there should be the appropriate information available on your website to educate them.
3. Clear And Concise User Journey
Users and potential customers should be able to come your website and instantly know what they need to do and where they need to go to achieve their goals. The aim of your website should be to allow users to search for, find, and enquire on a vehicle in as few steps as possible. A common mistake we see on a lot of car leasing websites is the same vehicle, albeit with different contract terms, being listed multiple times in search results. From a usability point of view this is a huge road block! A simple solution to this would be to only display each vehicle derivative once, and allow the user to change the contract length, mileage and initial rental within the details page. This allows the user to experiment with different contract terms more easily, and it also helps to reduce the number of search results meaning the user is much more likely to find the car they're looking for in less time.
Pro Tip: When it comes to content, remember quality over quantity. It's easy to fall into the trap of writing content for content's sake, but users will find quality content, which serves a purpose, much more beneficial and are much more likely to engage then they are with wishy washy content.
4. Social Proof And Testimonials
The automotive industry has certainly improved a lot over the past 15 years or so, but some people still perceive it as having a negative reputation, think back to the sleazy car salesman. Although this stereotype is largely out of date, it's important for all motor companies to convince customers to trust them. One of the most effective ways to achieve this is through an independent third-party review system such as Feefo or Trustpilot. Using a third-party system is usually the most effective way as it gives users the confidence the reviews are genuine. However, a good starting point can be to capture your own testimonials from your customers and upload them to your website yourself.

Pro Tip: Being active on social media is a great way to interact with potential buyers. You can also ask your customers to send in or tag your company in photos of their new vehicle as it's delivered. This will also help build customer trust in addition to upping your social media game.
5. Stand Out From The Crowd
One of the most obvious ways to improve your website is to make sure you stand out from the competition, and because leasing a vehicle is a high value purchase, which locks the customer into a monthly contract for a number of years, it's understandable they'll want to look around. Besides offering the best price possible, you need to ensure your users remember you, and if your website looks like every other leasing website out there, the chances of that happening are slim. As with any business, it's important to establish your own brand identity. We get calls from automotive companies all the time who are frustrated because their website is identical to their competitors, albeit with a different logo and colour scheme. The main route of this problem stems from automotive web design agencies who rely heavily on templates. To truly stand out from the crowd and develop your own brand identity you need to be working with a web design agency who focuses on bespoke designs, for example us!
Although we work with a number of different leasing companies, we're firm believers in designing and developing websites which are unique and echo our client's brand. Each of our websites start their life as a blank Photoshop document which we then craft into a bespoke and one-off design, based on our client's individual requirements. If you'd like to talk to us about our car leasing websites, please don't hesitate to get in touch, we're always happy to chat and share our expertise.
While there are many more optimisation techniques and improvements you can make, we hope you have found these 5 tips useful. Don't forget to check back regularly for more useful articles about improving your website and increasing sales.